Investors Overview
Creating value, the SRF way!
Overview
At SRF, we are committed to improving the quality of life through our wide range of products and services. We are recognized and well respected for our R&D capabilities globally, especially in the niche domain of chemicals. Our strong workforce of close to 7,000 works dedicatedly towards maintaining our legacy across India, Thailand, South Africa and Hungary. Additionally, we have customer footprints in more than ninety countries. With a turnover of ₹7,062 crore (US$ 942 million) in FY 2019-20, we are the market leaders in most of our businesses in India and command a significant global presence in some of our businesses.
At a Glance
Consolidated figures as on 31st March 2020
₹7,259 crore
($968 Million)
Revenue
₹1,250 crore
($167 Million)
EBIT
₹916 crore*
($122 Million)
PAT
*excluding discontinued operations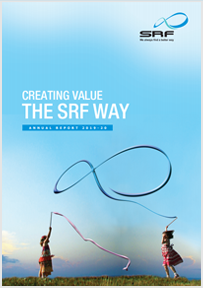 Latest Annual Report
As a company that shares a strong bond with the investors, we believe in full disclosure of financial updates and information.
Get details of our financial performance of FY 2019-20 here.
Investor information
Access all the investor information at one place.
Corporate Governance
Our prosperity is proportional to our good corporate governance practices.
Board of Directors
The guiding force that directs the company to achieve excellence.
Reports and Results
SRF's recent and historic Annual Reports and Financial Results.
Financial Information
Know us better through our Financial Information.